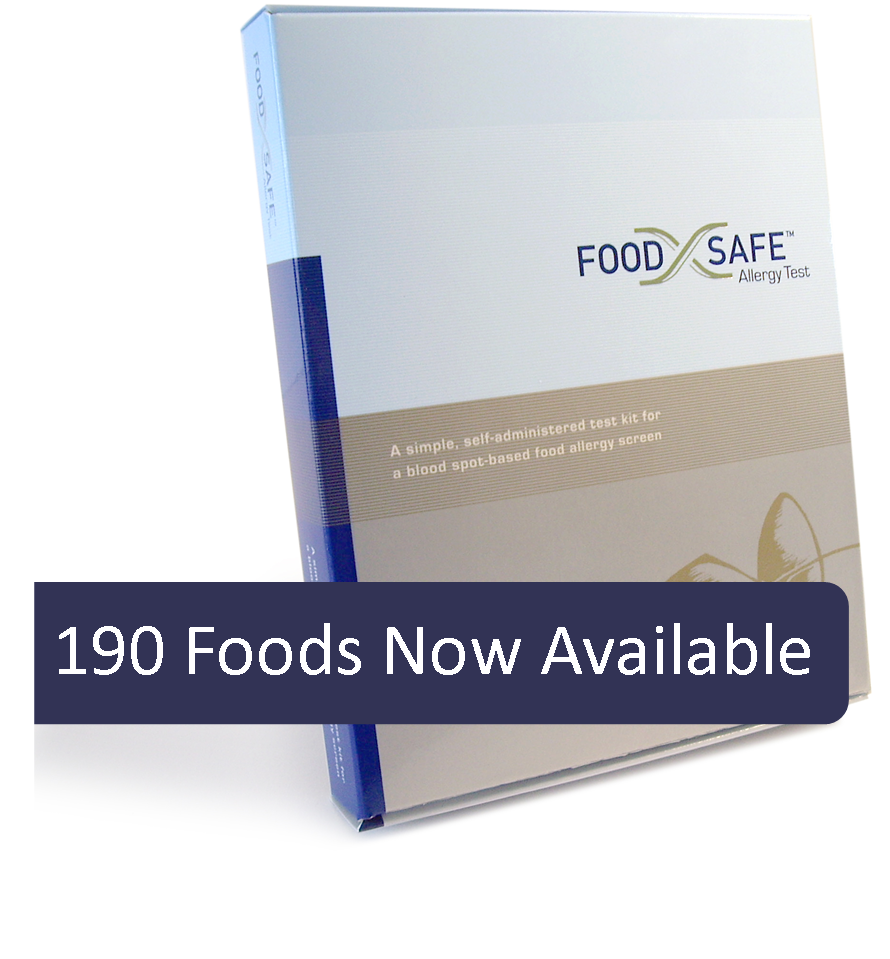 The newest development in food allergy testing is the FoodSafe Allergy Test, which requires only a small amount of blood for testing of 95 food antigens. This allows the patient to do the test at home or for the doctor to do in-office without a venipuncture. The finger is pricked with a lancet and then drops of blood are placed on a blood spot collection card. The card is air-dried and returned to the laboratory for assessment. IgG results are ranked according to their concentrations, and then reported as low, moderate, or avoid.
The information provided in this report enables the client to design an appropriate diet to exclude the reactive foods. With this test you can determine the primary cause of adverse food reactions. A food that causes an IgG response is referred to as delayed hypersensitivity, which may come and go in cycles, depending on whether the food is eaten or avoided.
Food IgG levels increase in response to the presence of the food antigens in the bloodstream, especially those foods eaten often such as corn, wheat, soy, and egg. IgG responses may cause delayed symptoms, such as joint or muscle pain, chronic headaches, fatigue, eczema, and psoriasis.
Since IgG reactions often occur hours or days after particular foods are consumed, correlating symptoms can be difficult. The reactions can be subtle or severe, and may lead to chronic (long-term) symptoms and chronic degenerative conditions.
When an IgG food is avoided it may take 3 to 9 months for the antibody level against that food to decrease significantly. However, for the antibody level to return to the previous level, the food may have to be eaten frequently for weeks to months. For that reason, these foods are often less problematic when reintroduced; when consumed infrequently in a rotation diet, they seldom have to be avoided for life.
The FoodSafe Basic Food Allergy Panel and FoodSafe Extended Food Allergy Panel can be combined for a lower cost to you to provide more comprehensive food allergy detection.
Free Candida Screen Included, Candida Albicans
Sometimes it is not the the food sensitivities but it's the infection (candida overgrowth). Candida is normally found in very small amounts in the human intestinal tract; small amounts do not cause problems in a healthy person.  Too much Candida can result in symptoms very similar to those caused by food allergies. "Moderate" or "Avoid" on the Candida screen means that your body has produced high numbers of antibodies to Candida at some time in the past. It does not   confirm that you have a current Candida overgrowth. There are several tests that can be done to assess whether you currently have excessive growth of Candida. One of the best of these is the Microbial Organic Acids Test (MOAT), a urine test which looks for the presence of waste products from Candida. Meridian Valley Lab studies have found a strong correlation between "Moderate" or "Avoid" antibodies on the MVL Candida Screen and high levels of Candida-related waste products on the MOAT.
DAIRY

CASEIN
CHEDDAR
COTTAGE CHEESE
COW'S MILK
GOAT'S MILK
MOZZARELLA CHEESE
WHEY, NEW ZEALAND

MEATS

BEEF
BUFFALO
CHICKEN
EGG WHITE
EGG YOLK
LAMB
PORK
TURKEY

FISH

COD
HALIBUT
SALMON
SARDINE
SOLE
TILAPIA
TROUT
TUNA

SHELLFISH

CLAM
CRAB
LOBSTER
OYSTER
SHRIMP

VEGETABLES

ASPARAGUS
BEET
BLACK OLIVE
BROCCOLI
CABBAGE
CARROT
CAULIFLOWER
CELERY
CUCUMBER
GARLIC
GREEN BEAN
GREEN PEPPER
KIDNEY BEAN
LENTIL
LETTUCE
LIMA BEAN
ONION
POTATO, WHITE
PUMPKIN
PEA
SOY
SPINACH
TOMATO

GRAINS

BARLEY
BUCKWHEAT
CORN
GLIADIN
GLUTEN
HEMP
OAT
QUINOA
RICE
TEFF
WHEAT

FRUITS

APPLE
APRICOT
AVOCADO
BANANA
BLUEBERRY
CRANBERRY
GRAPEFRUIT
LEMON
PAPAYA
PEACH
PEAR
PINEAPPLE
PLUM
RASPBERRY
GRAPE
STRAWBERRY
WATERMELON

NUTS

ALMOND
PEANUT
PECAN
PUMPKIN SEED
SESAME
SUNFLOWER SEED
WALNUT

MISCELLANEOUS

BAKER'S YEAST
BREWER'S YEAST
CANE SUGAR
COFFEE
HONEY
MUSHROOM
XANTHAN GUM